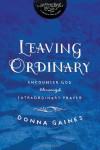 Leaving Ordinary: Encounter God Through Extraordinary Prayer
Progress: 65/192 pages
The Walking Dead, Compendium 1
Progress: 8 %
Lola XOXO, Vol. 1
Progress: 16 %
Psalms, 1-72 (Journibles: the 17:18 Series)
Progress: 132/336 pages
The Handmaid's Tale
Progress: 31/311 pages
The 5th Wave
Progress: 156/457 pages
I received a copy of this book from Random House Publishers for an honest review.
I did a book study on Furtick's book "Crash the Chatterbox" and was immediately intrigued by this fairly young pastor writing such a compelling and optimistic, loving view of God in his books. I'd heard rave reviews about "Sun Stand Still" which within 20 minutes of reading it became one of my favorites. While "Greater" is still amazing, truly, Furtick is one of the only Christian non-fiction authors I really seem to enjoy reading and relate to, this one falls short of "Sun Stand Still".
"Greater" felt like a take off of "Sun Stand Still", that it was an extension of the ideas, without using the same terminology. Sure one talks about audacious faith, and this one is using the catch phrase "greater", but they both said essentially the same thing. Maybe that's because the message does boil down to the same thing, to trust God with his plan for you, and when you do that, things all seem to fall into place.
It's still amazing, and half of it is underlined, so don't get me wrong, I absolutely loved and enjoyed this book as much as his others, but I felt like I was getting the same message over and over again. Maybe I needed to get this message over and over, honestly. It could be that God needed me to hear it, and it's good then, that it's being ingrained in my life. I also feel slightly biased because recently I did discover what I feel God called me to do, so "discovering" it, doesn't really apply to me anymore.
Furtick is always spot on with theology in my opinion. I honestly value what he has to say, and usually take it to heart and I will take this book to heart as well as recommend it to a friend (as I always do with his book), and I have to say that even my friend who is well versed in the Bible hadn't really read the story of Elisha so that was an amazing eye opening experience. I enjoyed his writing style, mostly because when he writes I always feel like it's just so obvious that what he's saying is true. I've experienced so much of it.
I love Furtick's books, and I am so happy I got a copy of this one to review, he is one of my favorite authors of all time who continuously puts out books that enlighten and make me feel inspired to live a better Christian life.