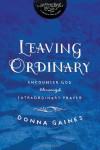 Leaving Ordinary: Encounter God Through Extraordinary Prayer
Progress: 65/192 pages
The Walking Dead, Compendium 1
Progress: 8 %
Lola XOXO, Vol. 1
Progress: 16 %
Psalms, 1-72 (Journibles: the 17:18 Series)
Progress: 132/336 pages
The Handmaid's Tale
Progress: 31/311 pages
The 5th Wave
Progress: 156/457 pages
My foray into Rainbow Rowell has been a good one. My first one, Attachments, was really good and this actually lived up to it's hype for me. Rowell is a fantastic author with a real insight into how teenage/young adult girls exist in this day.
Fangirl follows Cather and Wren, twins who are headed off to college together, but not. Wren is ready to fly the coop and explore partying, boys and all the things college stereotypically is. Cather on the other hand, isn't ready for the world without her sister. She hasn't ever existed outside of her relationship with her sister. Cather is also a quite popular fanfiction writer for a book called Simon Snow. The book includes some of Cather's fanfic and is just..amazing.
This book was a little misleading for me because I vividly remember being told that it was about a girl that writes Harry Potter fanfiction and I was so. here. for that. BUT clearly because of copyright issues that couldn't be. I'll be honest, I skipped over all the Simon Snow fanfic, I'm picky about the fanfic I read on my own (although I have a few guilty pleasures), and I vividly remember being in 6-8th grade and finding Orlando Bloom and Lizzie McGuire fanfic that was just SO amazing and SO romantic that I would print the entire story out and read it on my one mile walk to school from the high school my dad worked at. Fanfic will forever have a soft spot in my heart (like I still remember this random Orlando Bloom fanfic I read called Heart Shaped Box and I'm bitter my favorite Mauraders + Lily fanfic is offline), so this book meant a lot to me. I saw a lot of myself in Cather, a lot of who I was in college and how I wish I had someone like Reagan to push me. I was depressed and alone, and too embarrassed to seek help.
This book made me feel better about all of this. It made me feel less alone. Even though I don't have a twin, Wren was the girl I would have been in college if I wasn't too scared. I've always been scared, scared of who would find out if I did something reckless, despite my soul being like "Go Go Go!", but Cather is the girl I was. I immersed myself in a fantasy world that was a much better escape and more validating than real people. And I just really love this book.

I don't care about Simon Snow or anything like that, I just love this book. and Harry Potter, and how lucky I feel to have grown up in this generation.