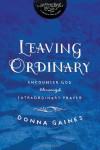 Leaving Ordinary: Encounter God Through Extraordinary Prayer
Progress: 65/192 pages
The Walking Dead, Compendium 1
Progress: 8 %
Lola XOXO, Vol. 1
Progress: 16 %
Psalms, 1-72 (Journibles: the 17:18 Series)
Progress: 132/336 pages
The Handmaid's Tale
Progress: 31/311 pages
The 5th Wave
Progress: 156/457 pages
I was SO FLIPPING EXCITED to read this book. After all my friends reviews and some of the little snippets that I had read I thought I would be rolling on the floor laughing when I read this book. Sometimes I forget that I have a very strange sense of humor and this book did not make me laugh like I expected. Boo.
Lamb follows the fictional gospel according to Christ's best friend Biff. It follows their friendship from kids all the way through to his death and resurrection on the cross. There's a lot of very humorous moments, and the book was actually quite well researched and I was quite impressed. You can tell that Christopher Moore really wanted to do this right if he was going to do it.
This book was actually strangely hard to get through for me? I had been looking forward to reading this book and thought that I would tear through it ravenously, especially considering so many of my friends reviews. I have to admit, I haven't read a lot of adult fiction lately or at all, it's just not something that I've found a lot of interest in, I find many of the books long and hard to get through. I prefer fast paced moving books, and this didn't move fast at all. I was intrigued by it, and was expecting to laugh out loud and there were parts that I did, but it left me hungry for more. I skimmed the whole last section, just not really entertained or laughing. Most of the humor was sexual humor that just seemed unnecessary and just not funny to me. I recommended this book to my grandpa, which was slightly terrifying as I got to Joshua and Biff's adventures with Balthazar.
I'm not an easily offended Christian, and this book didn't offend me, but it was just a little too Much for me. It wasn't as funny as I'd hoped it would be. Also the fact that my grandpa found it hilarious is really strange to me.