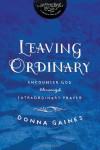 Leaving Ordinary: Encounter God Through Extraordinary Prayer
Progress: 65/192 pages
The Walking Dead, Compendium 1
Progress: 8 %
Lola XOXO, Vol. 1
Progress: 16 %
Psalms, 1-72 (Journibles: the 17:18 Series)
Progress: 132/336 pages
The Handmaid's Tale
Progress: 31/311 pages
The 5th Wave
Progress: 156/457 pages
So I did like this book. But I was expecting more. I was expecting really creepy, can't put it down until you know what the hell is going on, almost akin to Julie Berry's "All The Truth That's In Me", or Kate Karyus Quinn's "Another Little Piece", the latter of those I haven't been able to finish yet because it is seriously
that creepy
.
But that's not what I got. I got some kind of weird, semi Twilighty romance stuff. I didn't hate Violet like I hated Bella Swan, but she was...kind of dumb like girls in these books tend to be. Maybe it's just maybe it's just me that I wouldn't want to date a guy who has supernatural stuff going on or whatever, but I will never understand why people think it's sweet to have a girl just say "It's totally okay that you're doing really weird shit to my town! Like telling kids there's the Devil in the graveyard" etc etc etc.
If it was me I would have just been like, "Peace out, it's a shame too cause you're hot." But no. Violet didn't do that. Instead she mooned over him the whole book while I attempted to tell her through the pages VIOLET SWEETHEART YOU DON'T NEED NO MAN.
This was another one of the books I marathoned through on Labor Day Weekend. It did get creepy towards the end, but when someone tells me that it's a Gothic novel, I guess I just expected a little more? I feel like my standards are getting really high and I don't know how to feel about this...
The Reading Picnic
|
Leafmarks
|
Twitter